The Masked Singer: Sam Sparro revealed as the popcorn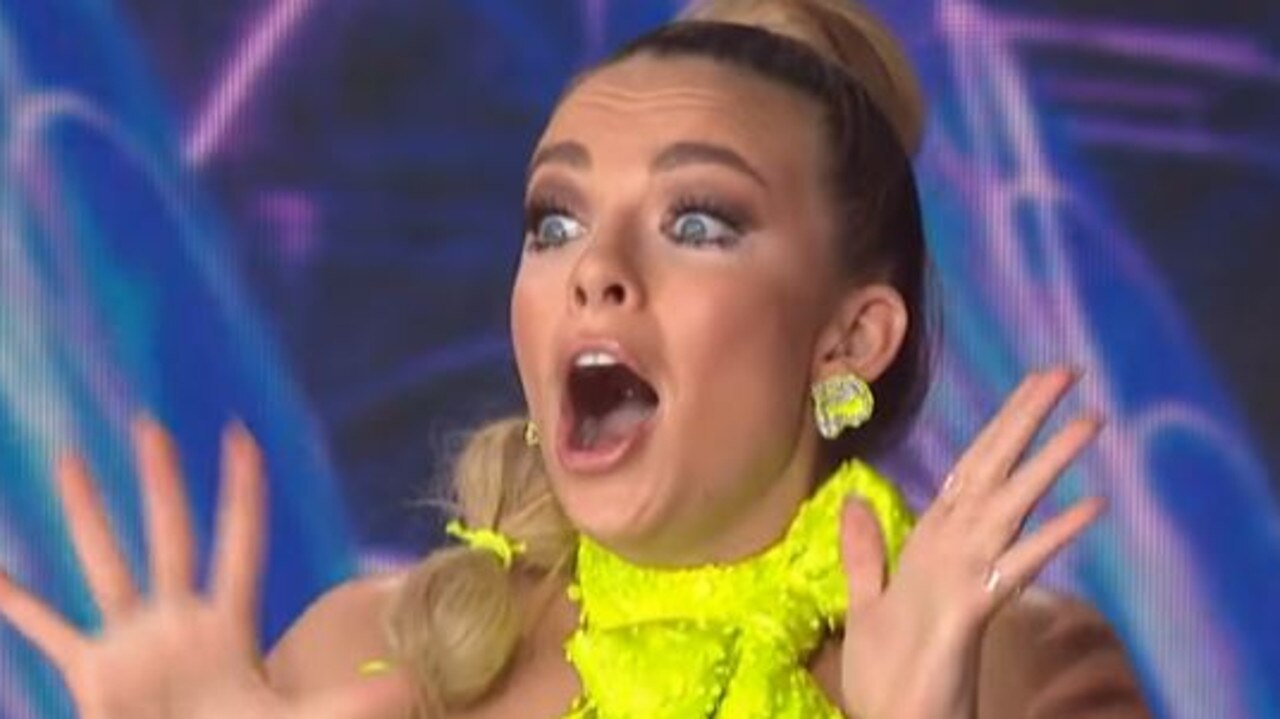 WARNING: Singer spoilers hidden below.
This season's Masked Singer reveals continued during Sunday night's episode, with the Popcorn revealed to be Australian singer Sam Sparro.
Sparro, 39, born in Sydney and based in the United States, shot to fame in 2008 with the electro-soul anthem Black goldwhich was a top five hit here and in the UK.
Before his identity was revealed, Popcorn performed a stunning version of Somewhere over the rainbow, along with another clue package that had all the signs pointing to Sparro. There were references to Elton John (who bought a portrait of Sparro in 2012) and star trek (Sparro's father composed the music for the classic show). Mention has been made of Voodoo – a song he wrote for Adam Lambert – and make a back to paradise (the name of his second album).
And he was ultimately chosen by at least one of the judges, with Mel B correctly guessing Sparro.
Elsewhere in Sunday's episode, Mirrorball performed Dua Lipa's hit Levitation – and judge Mel B got close to who fans have been reporting Mirrorball has been since before the season, former Pussycat Doll Melody Thornton, by guessing her former PCD bandmate Nicole Scherzinger.
The Blowfly sang a Kid Laroi song – still sounding as much like Shannon Noll as they did in the first episode – and the Snapdragon (which I'm still sure is Sheldon Riley) soared through London Grammar's hit Strong.
Next, it was time for generic contestant Microphone, who I had pinned as Destiny's Child member Michelle Williams after her debut on the show last week. A few notes on this week's performance, and I'm more sure of it than ever (plus there were several Destiny's Child references in his hint packet).
Then there was the rooster, which puzzled me in the early episodes but is definitely firming up as Hugh Sheridan now. Particularly after this bundle of clues: there were references to Liza Minnelli – Sheridan once served as an act of support; and Nepal – Hugh rushed to Nepal to find his brother following a 2015 earthquake.
Meanwhile, masked singer Judge Abbie Chatfield dropped an interesting tidbit behind the scenes during an appearance on Ten's comedy show cheap seats Last week.
The star admitted that her height-based guesses during the show had been a bit too sensible, and producers had warned her that she was "ruining the fantasy" of some of her following judges' wackiest choices.
"I was told I was obsessed with heights and to stop obsessing with heights because it ruined the fantasy and it could be someone else," she said. declared to the hosts.
"But I was like, I know how high Osher [Günsberg] is, and I'll work from there – and I was generally right.
Maybe, but it was fellow judge Chrissie Swan who took part in a masked singer winning streak recently, with the newcomer to the judging panel correctly guessing the final three contestants to be revealed: Jamie Durie, Emma Watkins and Matt Preston.
We also had our own guesses about who each contestant was earlier in the season – see how we stack up as each celebrity is revealed.
Popcorn's unmasking leaves five contestants still in the game this season, including new "joker" player Microphone – who is widely rumored to be Destiny's Child superstar Michelle Williams.
The Masked Singer continues at 7:30 p.m. Monday out of ten.