Sale Sharks sign England Under-20 lockdown Alex Groves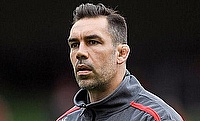 Sale Sharks director of rugby Alex Sanderson
© PA
Sale Sharks have announced the signing of England Under-20s Alex Groves on a long-term deal.
South African-born Groves will travel to Ashton Gate after being with the Bristol Bears since January 2020. He then made his debut for the Warriors in the Premiership Rugby Cup match in November last year.
The 21-year-old was delighted to join Sale Sharks and is looking to boost his career with them.
"I am extremely excited to have signed. Honestly, it's surreal to train alongside football greats that I grew up watching, admiring and learning about when I was at school," he told the official website. club.
"I am privileged to be part of such a great club.
"The first thing I noticed when I arrived was that this is a family, not just a rugby club. There's a spirit here that I haven't experienced anywhere else. and I'm really looking forward to working alongside Alex and all the Coaches Staff.
"I look forward to the opportunities that come my way here at Sale."
Meanwhile, Sale's director of rugby, Alex Sanderson, welcomed Groves to the club.
"Alex has all the attributes to be a really good player and I can't wait to see him in action. He's still young but he's already a powerful guy with all the skills you need from a modern lock.
"This club is committed to giving opportunities to young players, so Alex knows that if he works hard and develops as we believe he has a great future here."
Sale Sharks sit ninth in the Gallagher Premiership table with seven wins from 15 games and face Northampton Saints in the next round on February 19.