Nick Kyrgios: The most iconic moments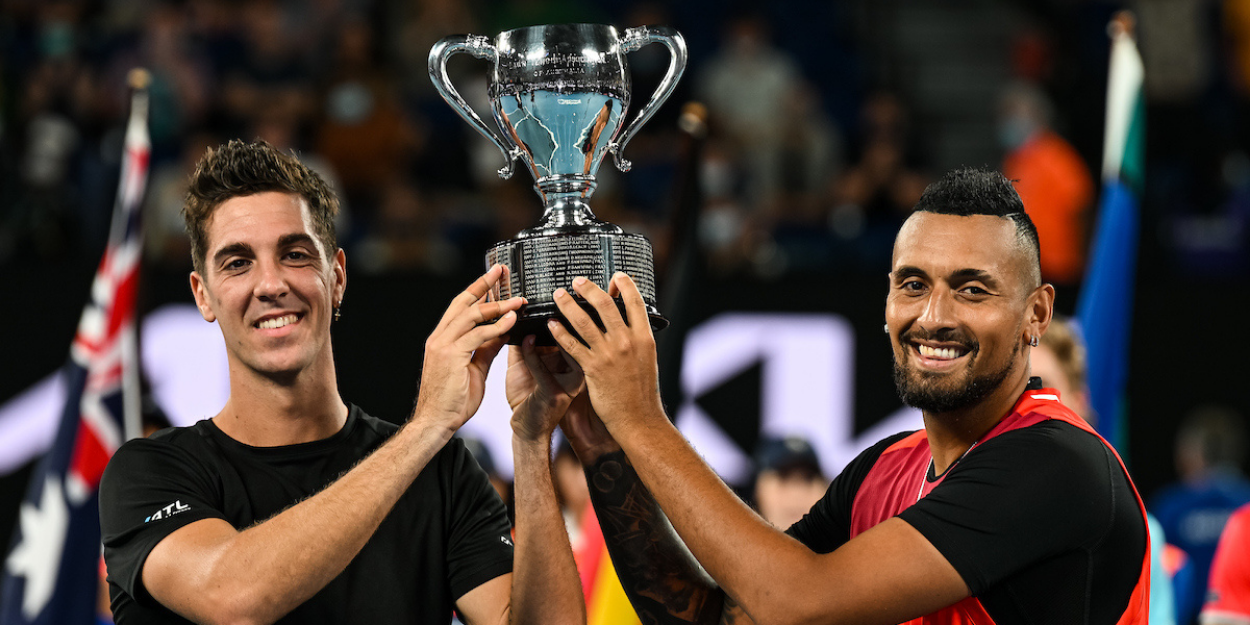 Nick Kyrgios' most iconic moments
Nick Kyrgios is widely recognized as one of the most naturally talented players on the tour, but that talent has at times been overshadowed by his somewhat unconventional demeanor on and off the pitch. So to celebrate this maverick Aussie, let's enjoy his most iconic on-court moments so far.
1. 'Shot of the Year' – Wimbledon 2014
Kyrgios, 19, burst onto the SW19 scene, where he became the first man to reach the last eight on his debut in a decade.
Entering the All England Club as a wildcard and ranked 144th in the world, Kyrgios grabbed headlines in the second round by pulling off a miraculous five-set comeback against 13th seed Richard Gasquet. During the match, he saved an incredible 9 match points and it was his first-ever straight-sets win to love at the ATP Tour level.
He followed that victory with another memorable performance in the fourth round when he faced world number one Rafael Nadal for a place in the quarter-finals. He won the tightly contested battle in four sets winning 7-6 (7-5), 5-7, 7-6 (7-5), 6-3, keeping his composure and serving up the win with his 37th ace for a historic victory.
He even managed to hit a 'shot of the year' contender – hitting an outrageous drop shot between the legs behind the baseline to everyone's disbelief.
Although Kyrgios lost to Canadian Milos Raonic in the quarter-finals, Wimbledon 2014 was certainly a big moment in Kyrgios' early career.
2. First ATP title won
In February 2016, Kyrgios won his first ever ATP trophy by winning the Open 13 in Marseille. In the final, he defeated fourth seed and former US Open champion Marin Cilic in straight sets 6-2, 7-6(3).
On his way to the title he also beat two top 10 players in the form of number eight Tomas Berdych and number 10 Richard Gasquet.
What makes this tournament even more notable is that he didn't drop serve the entire tournament, becoming the first winner to do so for the first time in a tour-level event in the Open Era.
3. Title win in Acapulco
In March 2019, Nick Kyrgios won his fifth ATP Tour title with a blistering run at the Mexican Open. He concluded the final in 1 hour and 30 minutes beating world number three Alexander Zverev in straight sets 6-3, 6-4.
In the previous seven days, Kyrgios had beaten world number two (Rafael Nadal), world number nine (John Isner) and former world number three and two-time Grand Slam winner Stan Wawrinka.
In particular, the win over Nadal in the round of 16 is considered a classic, with a final tie-break set to decide the winner. Kyrgios was one set and faced 3 match points in the deciding tiebreaker but managed to come back and win the game leaving the fans on the edge of their seats.
4. Win the 2022 Australian Men's Doubles Title
In January this year, Nick Kyrgios alongside Thanasi Kokkinakis, won his first ever Grand Slam doubles tournament by beating fellow Australians Matthew Ebden and Max Purcell 7-5, 6-4 in the final. It was the first all-Australian men's doubles final at the 'Happy Slam' since 1980.
The pair had played together in three previous Majors and only won one game. Yet their race to become Champions was nothing short of extraordinary. En route to the title, they beat 2021 Wimbledon seeds and champions Nikola Mektic and Mate Pavic, 15th seeds Ariel Behar and Gonzalo Escobar and sixth seeds Tim Puetz and Michael Venus. In the semi-finals, they also defeated third seeds and Wimbledon 2021 runners-up Marcel Granollers and Horacio Zeballos in straight sets.
To add to this remarkable underdog history, they were also the first all-Australian pair to win the title since 1997 and the first wildcards to win the event in the open era and triumph in any major tournament in almost a decade.
5. Talk openly about mental health
Nick Kyrgios has been a mental health advocate of late, speaking openly and candidly about his own personal experiences.
Last month, in a moving Instagram post, he opened up about his struggles with mental health and revealed his battles with depression, self-harm and drug and alcohol addiction.
He said: "That was me 3 years ago at the Australian Open. Most would assume I was mentally fine or enjoying my life…this was one of my darkest times. If you look closely, on my right arm, you can see that I am self-harming.
"I had suicidal thoughts and literally had trouble getting out of bed, let alone performing in front of millions of people. I was lonely, depressed, negative, abusing alcohol, drugs, pushing my family and my friends.
"I felt like I couldn't talk or trust anyone. It was the result of not opening up and refusing to lean on my loved ones and just pushing myself little by little to be positive. I know that everyday life can seem extremely exhausting, sometimes impossible.
"I understand that you feel like if you open up, it can make you feel weak or scared. I'm telling you right now, it's OK, you're not alone. I've been through these times when it seemed like these positive energy waves were never going to come true.
"Please don't feel alone, if you feel like you can't talk to anyone I'm here reach out. I'm proud to say that I have completely transformed and have a vision completely different from everything, I don't take a moment for granted.
"I want you to be able to reach your full potential and smile. This life is beautiful.