Newberry and Caldecott winners announced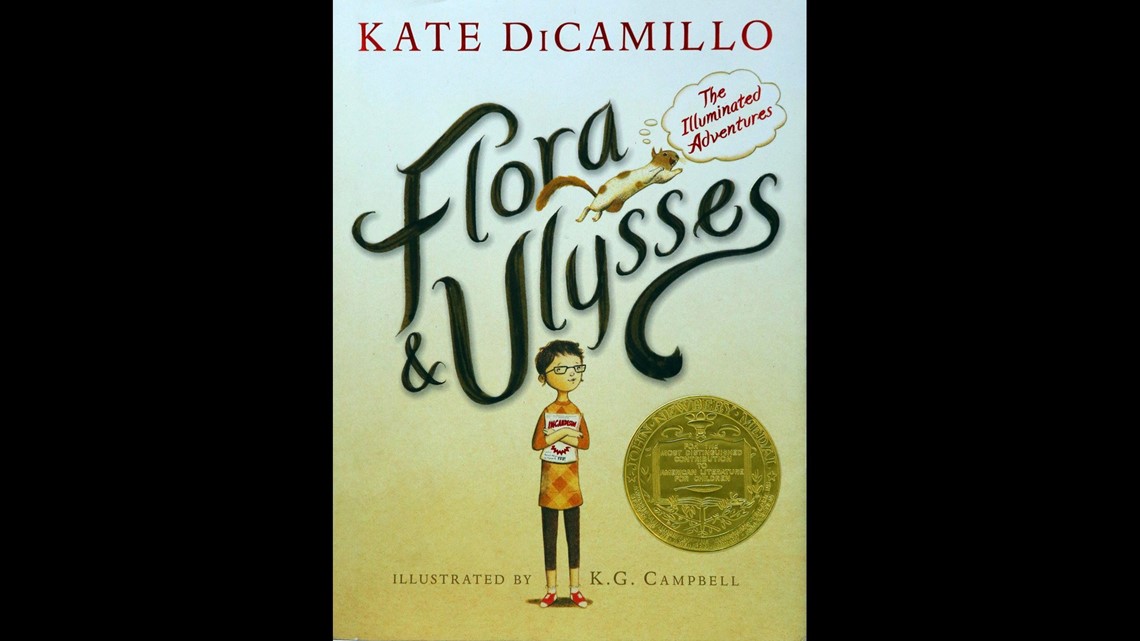 Prepare to meet the new classics of children's literature.
(CNN) – Get ready to meet new classics in children's literature.
Books for children and young adults are sporting shiny new seals after the American Library Association announced its most esteemed literary awards on Monday, including the Newbery and Caldecott medals.
The Caldecott Medal was awarded to "Locomotive", written and illustrated by Brian Floca. The book follows the family and crew traveling together on America's new transcontinental railroad in the summer of 1869.
The Newbery Medal was awarded to "Flora & Ulysse: The Illuminated Adventures", written by Kate DiCamillo, who also wrote "Because of Winn-Dixie" and "The Tale of Despereaux", and illustrated by KG Campbell. It's the story of a young comic book enthusiast and cynical, Flora, and a superhero squirrel named Ulysses who helps Flora against her greatest enemy.
The awards announced Monday recognize authors, illustrators and producers of media for children and young adults. The list of winners guides parents, teachers and libraries, and the books generally stay in print and on store and library shelves for years to come.
The ALA Youth Media Awards were announced at the organization's winter meeting in Philadelphia and selected by a national selection committee made up of librarians and children's literature experts.
Here is the list of winners:
John Newbery Medal for "Outstanding Contribution to Children's Literature"
"Flora & Ulysses: The Illuminated Adventures", written by Kate DiCamillo, illustrated by KG Campbell
"Doll Bones", written by Holly Black
"The Year of Billy Miller", written by Kevin Henkes
"One Came Home", written by Amy Timberlake
"Paperboy", written by Vince Vawter
Randolph Caldecott Medal for "America's Most Distinguished Picture Book for Children"
"Locomotive", illustrated and written by Brian Floca
"Voyage", written and illustrated by Aaron Becker
"Flora and the Flamingo", written and illustrated by Molly Idle
"Mister. Wuffles!" Written and illustrated by David Wiesner
Coretta Scott King Award for African American Author and Illustrator
Author Award: "PS Be Eleven", written by Rita Williams-Garcia
Illustrator Award: "Knock Knock: My Dad's Dream for Me", illustrated by Bryan Collier and written by Daniel Beaty
Author: "March: Book One", written by John Lewis and Andrew Aydin and illustrated by Nate Powell
Author: "Darius & Twig", written by Walter Dean Myers
Author: "Words with Wings", written by Nikki Grimes
Illustrator: "Nelson Mandela", written by Kadir Nelson
Coretta Scott King / John Steptoe Award for New Talent
Theodore Taylor III for his illustrations for "When the Beat is Born: DJ Kool Herc and the Creation of Hip Hop"
Coretta Scott King-Virginia Hamilton Lifetime Achievement Award for Illustrator / Author
Patricia and Fredrick McKissack
Margaret A. Edwards Award, for "Significant and Enduring Contribution of an Author to Young Adult Literature"
Markus Zusak, author of "The Book Thief", "I Am the Messenger", "Fighting Ruben Wolf" and "Get the Girl"
May Hill Arbuthnot Honor Lecture, recognizing an author, critic, librarian, historian or teacher of children's literature
Brian Selznick, author and illustrator of "Wonderstruck" and "The Invention of Hugo Cabret", winner of Caldecott, will deliver the Arbuthnot 2015 lecture.
Pura Belpre Award for a Latin writer and illustrator "whose children's books best describe, affirm and celebrate the Latin cultural experience"
Illustrator: "Nino Wrestles the World", illustrated and written by Yuyi Morales
Author: "Yaqui Delgado wants to kick your ass", written by Meg Medina
Author: "The Lightning Dreamer: Cuba's Greatest Abolitionist", written by Margarita Engle
Author: "The Living", written by Matt de la Peña
Author: "Pancho Rabbit and the Coyote: A Migrant's Tale", written by Duncan Tonatiuh
Illustrator: "Maria Had a Little Llama", illustrated and written by Angela Dominguez
Illustrator: "Tito Puente: Mambo King", illustrated by Rafael López and written by Monica Brown
Illustrator: "Pancho Rabbit and the Coyote: A Migrant's Tale", written by Duncan Tonatiuh
Stonewall Book Award, the Mike Morgan & Larry Romans Children's & Young Adult Literature Award for "books of outstanding merit relating to the gay, lesbian, bisexual and transgender experience"
"Beautiful Music for Ugly Children," Written by Kristin Cronn-Mills
"Fat Angie", written by eE Charlton-Trujillo
"Better Nate Than Ever" Written by Tim Federle
"Marked by the pink triangle", written by Ken Setterington
"Two boys kissing", written by David Levithan
Schneider Family Book Award for "books that embody an artistic expression of the disability experience"
Book for young children: "A Splash of Red: The Life and Art of Horace Pippin", written by Jen Bryant and illustrated by Melissa Sweet
Intermediate level book: "Handbook for Dragon Slayers", written by Merrie Haskell
Book for teens: "Rose Under Fire", written by Elizabeth Wein
Michael L. Printz Award for "Excellence in Written Literature for Young Adults"
"Winter Blood", written by Marcus Sedgwick
"Eleanor & Park", written by Rainbow Rowell
"The kingdom of small wounds", written by Susann Cokal
"Maggot Moon", written by Sally Gardner
"Sail early", written by Clare Vanderpool
Theodor Seuss Geisel Prize for Beginner Reading Book
"The watermelon seed", written and illustrated by Greg Pizzoli
"Ball", written and illustrated by Mary Sullivan
"A big guy took my bullet!" written and illustrated by Mo Willems
"Penny and Her Marble", written and illustrated by Kevin Henkes
William C. Morris Award for "a first book published by a first time author written for adolescents"
"Charm & Strange", written by Stephanie Kuehn
"Sex and violence", written by Carrie Mesrobian
"Dr. Bird's Advice for Sad Poets", written by Evan Roskos
"Belle Epoque", written by Elizabeth Ross
"In the shadow of the blackbirds", written by Cat Winters
Robert F. Sibert Information Book Award for Children's Information Books
"Parrots Over Puerto Rico", written by Susan L. Roth and Cindy Trumbore and illustrated by Susan L. Roth
"A Splash of Red: The Life and Art of Horace Pippin", written by Jen Bryant and illustrated by Melissa Sweet
"Seek! Bird-Watching in Your Own Backyard," Written and Illustrated by Annette LeBlanc Cate
"Locomotive", written and illustrated by Brian Floca
"The Mad Potter: George E. Ohr, Eccentric Genius", written by Jan Greenberg and Sandra Jordan
YALSA Award for Excellence in Nonfiction for Young Adults
"Nazi Hunters: How a Team of Spies and Survivors Captured the World's Most Famous Nazi," Written by Neal Bascomb
"Go: A Children's Guide to Graphic Design," Written by Chip Kidd
"Imprisoned: The Betrayal of Japanese Americans in World War II," Written by Martin W. Sandler
"Courage is Colorless: The True Story of the Triple Nickles, America's First Black Paratroopers," Written by Tanya Lee Stone
"The president has been shot! The Assassination of John F. Kennedy ", written by James L. Swanson
Mildred L. Batchelder Award for a book published in a language other than English in a country other than the United States and then translated into English for publication in the United States
"Mister Orange", written by Truus Matti and translated by Laura Watkinson
"The swimsuit or the worst vacation of my life", written by Charlotte Moundlic and illustrated by Olivier Tallec
"My father's arms are a boat", written by Stein Erik Lunde and illustrated by Øyvind Torseter
"The war between these walls", written by Aline Sax and illustrated by Caryl Strzelecki
Odyssey Award for Audiobooks
"Scowler", produced by Listening Library, written by Daniel Kraus and narrated by Kirby Heyborne
"Better Nate Than Ever", produced by Simon & Schuster Audio and written and narrated by Tim Federle
"Scary carrots!" produced by Weston Woods Studios Inc., written by Aaron Reynolds and narrated by James Naughton
"Eleanor & Park", produced by Listening Library, written by Rainbow Rowell and narrated by Rebecca Lowman and Sunil Malhotra
"Matilda", produced by Penguin Audio, written by Roald Dahl and narrated by Kate Winslet
Andrew Carnegie Medal for Children's Video
"Bink & Gollie: Two for One", produced by Paul R. Gagne and Melissa Reilly Ellard
Alex Awards for 10 adult books that appeal to teens
"Brewster: A Novel", written by Mark Slouka
"The Death of the Bee: A Novel", written by Lisa O'Donnell
"Golden Boy: A Novel", written by Abigail Tarttelin
"Help the Haunted" Written by John Searles
"Lexicon: a novel", written by Max Barry
"Lives of Tao", written by Wesley Chu
"Mother, mother: a novel", written by Koren Zailckas
"Relish: My Life in the Kitchen" Written by Lucy Knisley
"The sea of ​​tranquility: a novel", written by Katja Millay
"The Universe vs. Alex Woods", Written by Gavin Extence