Far Out brings New Zealand ice cream to the Boston area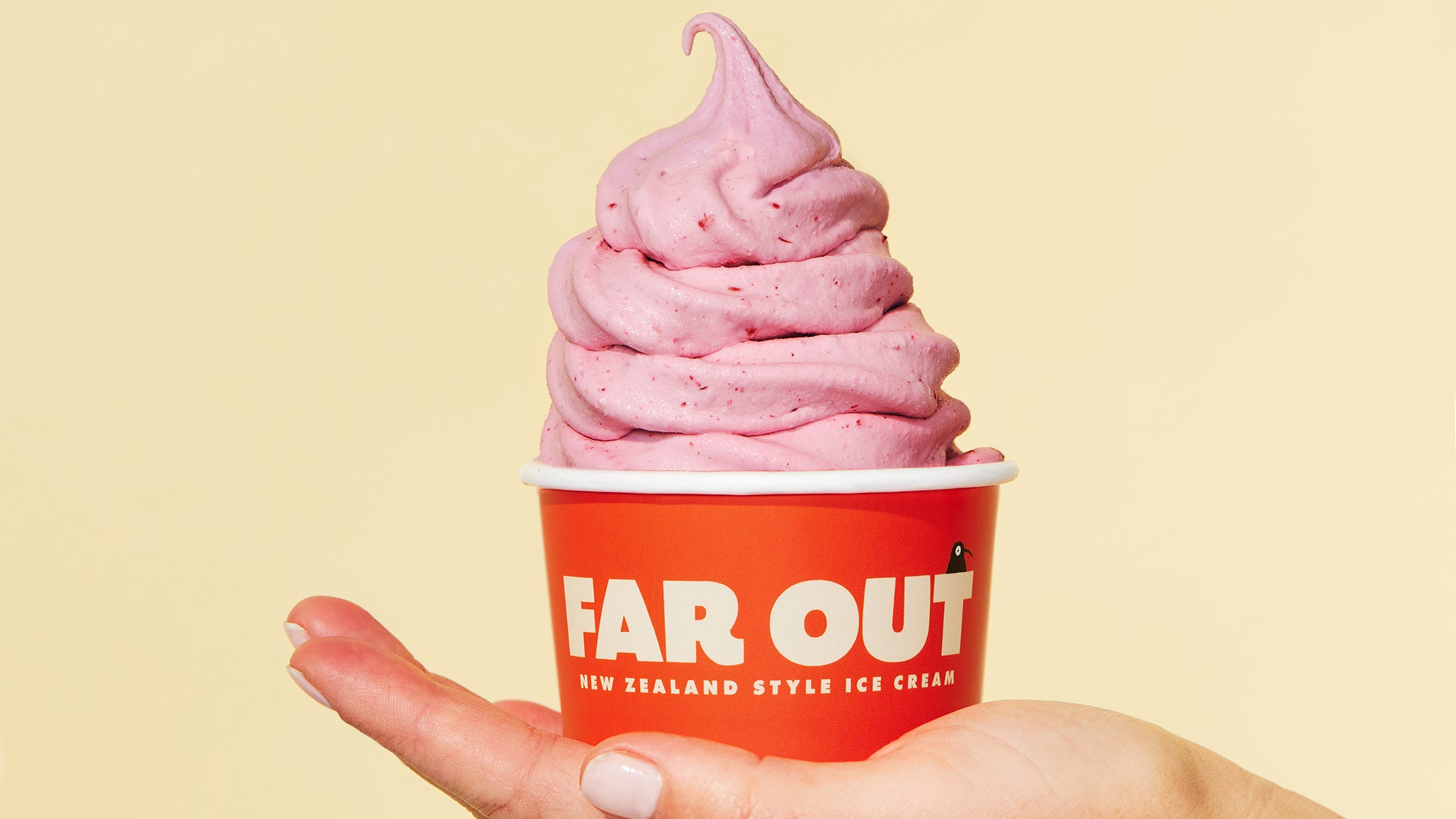 Restaurants

The company's flagship location will open in early fall.
Cape Cod's best ice cream parlors

When August Radbill first visited New Zealand a few years ago, he wasn't thinking about ice cream. The Brookline resident has enrolled in a working organic farm program, intending to travel throughout the region between farm stays. But after advice from his longtime friend, Drew Beja, Radbill quickly fell in love with New Zealand's 'real fruit ice cream', a simple, ultra-creamy style that swirls a scoop of fruit with flavor. Vanilla ice cream in a machine specially designed for dessert. When Radbill returned to Boston, Beja asked him if he had thought of real fruit ice cream.
"I didn't stop," Radbill said.
Last summer, Radbill and Beja launched Far Out, a New Zealand-style ice cream company that debuted as a pop-up in a modernized shipping container on Nantasket Beach in Hull. In June, they set up a temporary home at House of Blues, where they serve ice cream to patrons on weekends and during Red Sox home games and House of Blues events. All in preparation for their permanent flagship location, which will open in Brookline's former 4A Cafe in early fall.
"We want to be loved by the neighborhood and really be a part of it," Radbill told Boston.com. "There is a dense culture in this area which is just great. You can really feel it.
When Far Out's Brookline store opens, it will offer 14 indoor and 16 outdoor seats, where customers can order neo-style mugs, waffle cones and milkshakes from the ice cream. Zealander in flavors like blueberry, strawberry, raspberry, mango, pineapple, banana and kookaberry, a blend of berries. Each flavor is made with either dairy or non-dairy vanilla ice cream from Maple Valley Creamery, and Radbill said they eventually hope to bring up Hokey Pokey, a popular New Zealand flavor made from honeycomb caramel. . The shop, designed by Analogue Studios, will also feature coffee from Night Shift Brewing. The opening hours are tentatively scheduled from 7 a.m. to 9 p.m., seven days a week.
"It's so simple, and it's greater than the sum of its parts," Radbill said of the style of ice cream. "It just blends into something so much better. "
Far Out isn't the first New Zealand-style ice cream shop to land in the United States – there are similar stores in Colorado, Oregon, Texas, and Hawaii – but it's a style that doesn't. has yet to gain popularity in New England. Radbill said he and Beja wanted to make Far Out ice cream in the US and Europe, but for now, he's content to satisfy locals and New Zealanders who visit the store.
"We've had Kiwis here who say it's as good as it is at home, and we're so glad to hear that," Radbill said.
Until the Brookline Store debuts, Far Out's bright orange Fenway pop-up continues to function at House of Blues during Red Sox home games, House of Blues events, Fenway events, and weekends. -ends from Thursday to Saturday. Radbill said they strive to make their store as sustainable as possible – Far Out's mugs are made from cane and their materials are all compostable – and to create a culture of happiness around their ice cream.
"We really strive to make people happy," he said. "Ice is only part of it. It turns out that the ice cream is excellent. Our hope is that you show up [to the store], and we have a whole process that we walk you through: the menu is fun, the smells are great, and you get a great customer experience with genuine hospitality. You get this ice cream cone, and it's aesthetically beautiful and you try it, and that's the icing on the cake. This is what we are looking for. "
Stay up to date with food news
Sign up for The Dish and get the latest food and restaurant news delivered to your inbox.