English rugby: Eddie Jones wants "fresh and energetic players" for the 2023 World Cup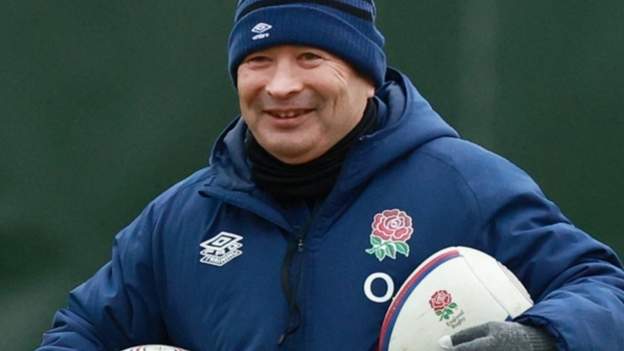 Head coach Eddie Jones is looking to unearth "fresh, energetic and enthusiastic players who want to take over the world" as England seek to recover from a poor Six Nations.
England face the United States and Canada in July, while an England "A" team meet Scotland "A" in late June.
"There are only two years left until the World Cup and team building until 2023," Jones told BBC Sport.
"This is the occasion of this summer tour."
Jones names his team on Thursday 10 June (12:00 BST) and with 11 England players with the British and Irish Lions, the team will take on a new face.
In-form Harlequins opening half Marcus Smith is among a crowd of rookies asking for a first draft.
"He's been really impressive in the latter part of the season," Jones said. "I saw a change in the way he played.
"What we are seeing now is a maturing process with Marcus, where he finds the right balance between keeping his team organized and using his own instinctive skills."
However, Jones' coaching squad has been disbanded from fifth place in the Six Nations, with the attacking coach Simon Amor quits setup and skills guru Jason Ryles forced to abandon plans relocate from Australia.
The Rugby Football Union are looking for a new manager to lead England's attack, but Jones says for this summer period he will resume a more practical role.
"I trained the attack from 2016 to 2018, until [former attack coach] Scott Wisemantel took over, "Jones said.
"So we're going back in time there a bit, because I want our offense to be able to adapt to the way the game is going.
"The game is playing faster and more instinctively, and I think right now I'm probably the best person to do it.
"I will need an assistant in the future and I might need someone to take it over in the future. But for this period of time, where I want to lay some stones for the foundation, I think I'm the best person to do it. "
The RFU made the rare decision to welcome applications for the post, rather than relying on Jones to hunt a particular person.
"My network is reasonable, but I don't have access to all the coaches in the UK in particular," Jones explained.
"So is there anyone I don't know who can do a great job for us?"
"The reality is with the Premiership clubs [coaches] are under contract. All those who are coaches are under contract. But at the end of the day, we have to find the best coaches for England. "