"England will be a big challenge but we appreciate it"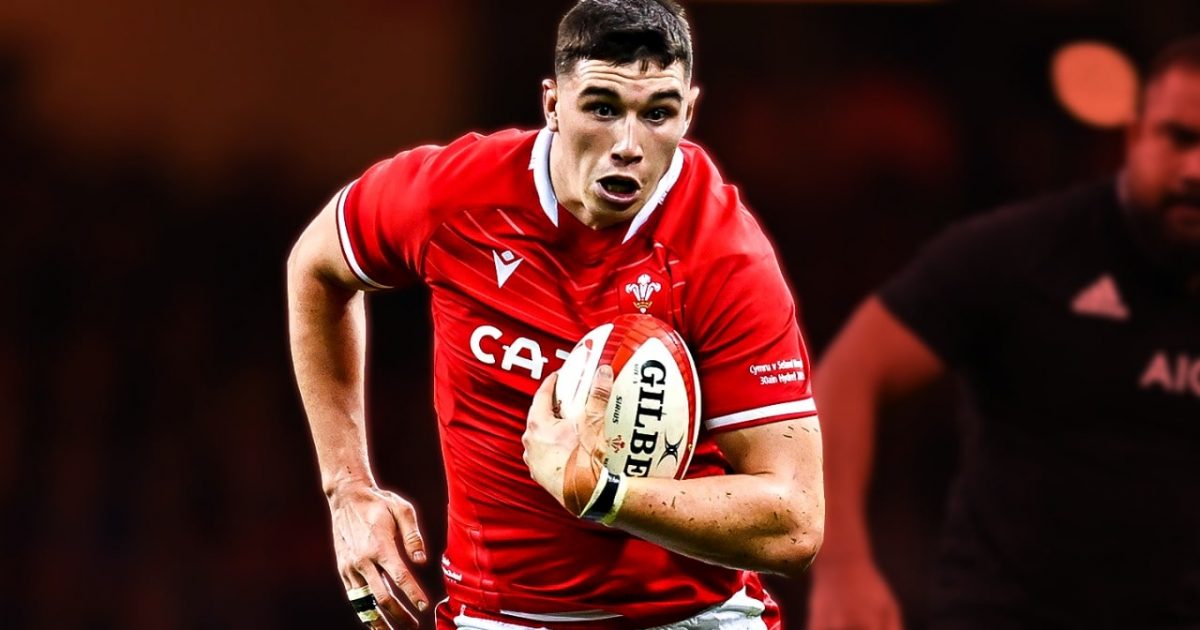 When you're 6ft 6in and a few sacks of sugar under 19 you wouldn't expect to always look up to your dad, but for Seb Davies it's reality with his dad a dizzying 6ft 9in and three other brothers of a similar size to the second row from Cardiff and Wales.
Food bills on Kingsland Road, the quiet suburban road in which Davies grew up, in Whitchurch, must have been astronomical and it will come as no surprise to learn that he was ferried from Garth Mountain to Pentyrch RFC at a tender age, where he started to develop his love of the game.
Whitchurch we know has produced some pretty stunning sportsmen with Sam Warburton, Geraint Thomas and Gareth Bale hailing from the school and more could be on the way with Davies' second-row team-mate Christ Tshiunza having been there raised.
Davies himself was schooled at the Welsh-speaking Glantaf, a former pupil of Jamie Roberts and Rhys Patchell. If he didn't play rugby, he was a marauding midfielder, a soft-handed cricketer of considerable stature, an avid swimmer. It was this multi-sport formation that helped Davies become one of Wales' most skilled strikers.
Davies is reluctant about his gifts, however. Softly speaking and smiling from a Zoom at the Wales base at the Vale, he speaks as if he had slipped into an accidental vocation. "After school, I did a BTEC and went to university. My rugby coach, Clive Jones, put me in the forwards, so I did a sports degree, focused on rugby and it went from there.
To fill in the gaps, it should be noted that Davies is still only 25 but has already racked up almost 100 appearances for Cardiff, showing his career-best form over the past 12 months. At Test level, after replacing Will Rowlands at the end of the match against Scotland, he made his 14and appearance for Wales in what has been a smoldering Test career to date. With Wales well supplied in the engine room, the departures of Jake Ball and Cory Hill to Japan and the untimely injury of captain Alun Wyn Jones have meant playing time in Wales' last six Test squads , much to his relief.
"To be honest, the last two years have been a bit frustrating because I've played well for the Blues, but I haven't had as many games for Wales. It's difficult because there are lots of good players around the second line and the back line is flooded with quality.
Someone who played alongside Davies and is following his career development with interest is recently retired Cardiff and Ulster No.8 Nick Williams. The popular Kiwi who remained in the capital after hanging up his boots, believes nailing his position is key for Davies as he enters his prime. "Seb is always trying to find his bearings and the position that best suits his skills. I don't think he was helped by playing so many positions in the back five. There were times when I think Seb was a bit lost because he wasn't getting the direction he deserved.
A turning point came in July 2020 with the birth of her first child, Jackson. A young dad at 24, with a daughter on the way in June this year, Davies knew responsibility was coming whether he liked it or not. "I became a young dad at 24 for Jackson. I think having that responsibility made a difference and it seeped into my rugby. Like most boys my age, I was really laid back before it doesn't happen, but now I'm more like a dad, a bit more organized and focused.Right now I feel like rugby is going well.
The big job for me is consistency. Sometimes I can have a really good week and then the next one I can do an average performance.
As a father of three, Williams could also see the majority of his young teammate.
"It's amazing what becoming a father does to someone. It gives you a purpose. Having the little one has given him time to realize there are bigger things than rugby. I'm not saying that he fell in love with the game, but in those tough times, when you're digging in and things don't go your way, it's having that motivation to get you through the tough times.
Talk to those in the Cardiff camp and they've been hugely impressed with Davies' output and growing leadership role. Davies is self-aware enough to know what he needs to improve. "The big job for me is consistency. Sometimes I can have a really good week and then the next one I can do an average performance. You know, nothing special. I spoke a lot with the Welsh coaches and in Cardiff to keep my level high in order to do my best for the team.
Looking on from afar, Williams feels the only thing Davies needs to do, as he evolves, is stay true to himself. "I rate Seb extremely well. He's a quiet lad, but I wouldn't want Seb to become someone he's not. I hope he locks in the position he wants to play the most. soon as possible because we are entering a World Cup year. I would be extremely disgusted if he was not in Wales' squad for France in 2023."
Davies feels he is headed in the right direction and has been helped by Wales' senior second rows, in particular Cory Hill. "Cory helped me a lot, especially last year when he was with us. I talk to him quite regularly and he always told me to be confident in my abilities. Cory conveys things in a pleasant way, but you know he's trying to help. These are small nuggets, nothing too over the top.
The versatility offered by Davies is both a blessing and a curse. Good enough to play with a 4, 5, 6 and 8 on his back, in this era of hybrid players he is in demand. Eddie Jones recently spoke of the value of having 'hybrids' in his squad and a big back five in the mold of Courtney Lawes, Pieter Steph du Toit and Tadhg Beirne is coveted. Davies knows, however, that he doesn't want to be classed as a utility player in the same way James Hook was during his Welsh career.
Put Davies on the spot and it's clear where his best position is. "I'm definitely more comfortable with the lockout, I've played a lot more there but in the Autumn Series with quite a few injuries, I've played three of the four backline games except of the game against Australia. In open play there is no difference with the number on your back, the only difference is in the scrum and I will probably always be a lineout jumper. I am happy to play everywhere where Wales play me.
You can't train what he has, he's a good player on all grounds. He doesn't need to make any major changes to his game, it's just about adding that one percent

Nick Williams
One thing that is beyond doubt are his unique gifts, especially for a lock. Williams admits he was regularly left gobsmacked by his soft skills in training. "When you think of a front five striker, you think it's all tunnel vision. For his position, Seb has to be one of the best I have ever seen and that comes from someone who comes from a part of the world where the skill level is extremely high. It can pass comfortably with both hands whereas if you look at some second rowers they struggle to pass one. His skills are miles above some of the best players I've seen in his position.
Davies isn't one to shout his virtues from the rooftops, preferring to chisel his game behind closed doors with improved communication and leadership at the top of the list. Williams is supportive of his friend's continued progress on the Test scene. "I just want to see the big guy crack. I don't want to look at him four or five years from now and think his best years are behind him as he finally plays in his natural position – he's too good for that. Some skills take hours of practice, but with Seb you can see it comes naturally. You can't train what he has, he's a good player on all grounds. He doesn't need to make any major changes to his game, it's just about adding that one percent.
For now, Davies is relishing being part of a live Six Nations tournament where reigning champions Wales bought themselves a lifeline with a tense 20-17 win over Scotland. It was a result that lifted dark clouds from the team following the 29-7 loss in Dublin. "It was great at the end of the game against Scotland in that huddle. We needed that performance and that win after Ireland's disappointment. The crowd was fantastic. It was amazing to be there after to have worked so hard to put things right in the week. We were so proud that everything had come to fruition.
I'm desperate to be involved in the game against England. As we did for the match against Scotland, we will work on our processes and we will give a very good impetus to Twickenham.
With the build-up to a titanic battle against England looming, downtime is provided as they hack Castle Heights golf course and prepare for the birth of a second child, but no one should doubt that Davies is desperate for a starting spot on the team. "I'm desperate to be involved in the game against England. I play quite regularly for Wales, that's my target. Like we did for the game against Scotland, we're going to focus We will work on our processes and our game plan and we will take a real leap forward at Twickenham.
Davies will likely face Maro Itoje, Joe Launchbury and the returning Courtney Lawes, but you won't find any chatter from his England contemporaries. "These three are all brilliant players. What they all boast about is a tremendous work rate. They are also extremely physical. Whoever they choose will be a big challenge for us, but we're enjoying it.
Williams believes that whichever side Wayne Pivac chooses, Davies won't let him down. "Seb is a quiet kid, but he doesn't lack fire in his stomach. When I played with him, I would say "flip the switch" and he could do it, especially if he was treated well. When he's on it, he's really one of the best around.