Critical care: Can New Zealand weather the wave?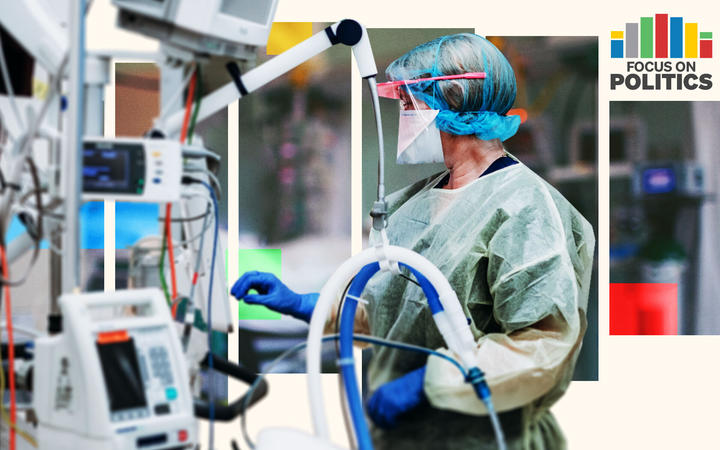 [ad_1]
"We want to be able to provide the level of care that we are used to providing… the other thing that concerns me is that even for business as usual, we are by a point understaffed. nurse view "- ICU nurse Tania Mitchell
Doctors and nurses are on the sharp end of Covid, caring for the sickest of the sick, people who have trouble breathing, their organs may be starting to fail.
At the height of the pandemic, it would seem logical that those working in intensive care units (ICUs) would be the first to get what they need to keep New Zealanders alive, but the staff in these beds 24 hours a day. out of 24 requires about five people per bed, and New Zealand is 90 years old right now.
As we move towards the traffic light system, it's difficult to predict exactly how many cases there will be, how many hospitalizations, and how many deaths.
The most recent modeling shows the worst-case scenario of 16,000 weekly cases, but senior health officials downplay the likelihood of a sudden increase.
Australasian Critical Care College vice-president Rob Bevan said the group meets twice a week with the Department of Health to try to increase intensive care capacity.
"The number of ICU beds can be counted and reported in different ways… the most significant would be the actual number of patients to whom we can provide the best ICU level care today with staff currently stationed, trained and working. "
He says a New Zealand Medical Journal (NZMJ) concludes that the number is 176 beds – including 15 specialized pediatric beds.
"That number drops from 176 to 280 if we integrate the 104 physical beds that are not filled at this stage. And there are many concerted efforts from DHBs supported by the ministry to close this gap, primarily with nurses."
Read more:
Health Minister Andrew Little said 1,400 nurses had been trained to provide enough support to bring New Zealand's 289 intensive care units and high dependency units to 550.
However, College of Critical Care Nurses President Tania Mitchell said the training was only a four-hour online module with some DHBs offering hands-on training lasting a few days as well.
She also wonders about the accuracy of the number 1400.
"My colleagues across the country see nowhere near that number of nurses in training… some DHBs might have 30, other DHBs, ICU nurses tell me they see no refresher training , so there's a pretty wide range … some areas are definitely under-prepared. "
The NZMJ article found that staffing levels would only be sufficient to cover around 67 intensive care beds, fully staffed and resourced.
National MP Shane Reti also said the move to 500 intensive care beds would have dramatic consequences.
"This increase relies on cannibalizing other units, other staff – other units that know how to handle a ventilator … you take all the staff from there and put them into intensive care, that's not tenable. "
Little says the government is actively working to increase pay rates and recruit from overseas, with 300 dedicated MIQ positions each month.
Asked whether New Zealand has one of the lowest rates of intensive care capacity in the developed world, Andrew Little blames the previous government for the underfunding of health.
Ultimately, however, it is up to the minister to ensure that everything has been done to prepare and to take responsibility for the success – or failure – of the health response.
Little says the high vaccination rates in New Zealand should ensure the pressure doesn't get unmanageable, and this position is supported by Dr Bevan.
"We don't expect to have to move on other than the best model of care we have today in New Zealand… vaccination is a big part of this," said Dr Bevan.
In today Focus on politics podcast, political editor Jane Patterson and health correspondent Rowan Quinn examine New Zealand's critical care and health capacity as Covid-19 spreads and elimination moves to suppression.
Listen to Focus on Politics for free on Apple Podcasts, Spotify, iHeart Radio, or wherever you get your podcasts.
[ad_2]