COVID Updates: Victorian Police Confirmed Close Contact After Case Witnessed Melbourne Protests – As Happened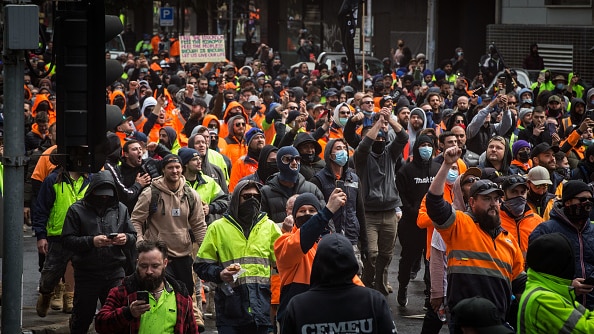 Melbourne tradie who was in intensive care with COVID urges protesting construction workers to get vaccinated
Construction worker in Melbourne Nathan Chellia wasn't in a big rush to get the COVID shot – he's in his 30s and didn't think it was that bad – until he caught it and spent 14 days in intensive care in the hospital Northern Melbourne.
Grateful for having recovered, he is now urging other Australians to get vaccinated and wants his experience with the coronavirus to serve as a warning.
In particular, Nathan says he was frustrated and disappointed by this week's rallies in Melbourne against mandatory vaccinations for the construction industry, which involved many trades like him.
"Stop the protests – you are spreading the virus everywhere," he says.
He says the importance of getting the vaccine was really reminded at home during his hospital stay when he saw the rapid recovery of three other COVID-positive patients, who had each received at least one dose of vaccine.
It's a mistake he doesn't want anyone else to make.
"If I had also had an injection, it wouldn't have happened at this point," he says.
"Think about your families. Go get the shot."
Nathan's story is worth reading – Check it out here.