Australia's indigenous art industry is worth a quarter of a billion dollars, so why are artists only ending up with a fraction of the profits?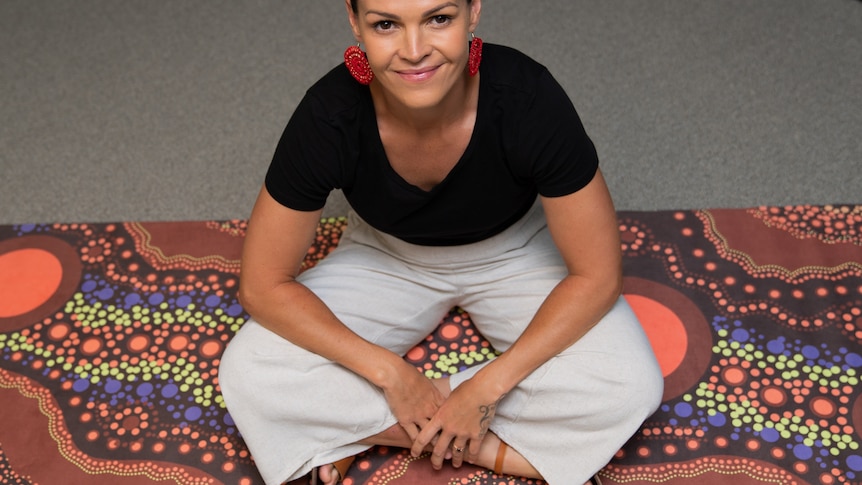 Aboriginal art is becoming big business, with Australian consumers and tourists wanting to bring home a souvenir from Down Under.
Key points:
In 2019-20, $250 million worth of Indigenous arts and crafts were sold
However, only one in three Aboriginal works of art is produced by an Aboriginal or Torres Strait Islander
Productivity Commission wants inauthentic Indigenous arts, crafts and souvenirs clearly labeled
However, it is not easy to verify if your boomerang or painting is from an indigenous artist or if it was made in Indonesia, and it is the Aborigines and Torres Strait Islanders who suffer from this.
Around $250 million worth of Indigenous art was sold in 2019-20, but a report by Australia's Productivity Commission shows only around one in three items was produced by an Indigenous artist or business.
Wiradjuri woman Jarin Baigent has seen firsthand how Aboriginal artists are being cut off from their own market, with cheap, mass-produced copies forcing traditional owners out of business.
"We have uncles who make handmade boomerangs, who at some point probably had a pretty solid opportunity to source somewhere," she said.
"Then you see one of these business models that participate in faux art that will go and get a supplier overseas, usually it's made in Indonesia, and that supplier will go for the cheapest option.
That's part of the reason Baigent co-founded Trading Blak, a marketplace for all Indigenous-owned and operated businesses to sell their wares.
Ms Baigent said she also wanted to tackle the rise of "business blackface", where non-Indigenous businesses sell products commonly made by Indigenous peoples but don't know exactly where the profits are going.
"I had a non-Indigenous business that participates in 'business blackface,' where they trick customers into thinking they belong to Indigenous people," she said.
"[They] made a business deal with me, then went to duplicate my products.
"What you see is that aboriginal people who go into business or art as an economic path are encouraged to start and then you get into this whole industry where you see such terrible exploitation that is so heavily funded."
Tackling fakes is a tough problem
Forgeries and copies are a big problem for Indigenous artists trying to start a business, but it's not easy to enforce rules about who can create certain styles of art.
Productivity Commissioner Romlie Mokak said it was also hard to expect consumers to be able to tell the difference.
"The consumer would find it very difficult, in some cases, to determine what is authentic and what is not, so he cannot make a judgment himself. You cannot help but conclude that it has a cost and [an] economic cost," he said.
Previous programs – such as the boomerang tick introduced more than 20 years ago – were a way for producers to show they were making genuine products, but adoption was limited and was another barrier to getting on the market. product market.
A new report from the Productivity Commission suggests the problem could be solved on the other side by shifting responsibility to non-Indigenous producers.
He recommends that "inauthentic" arts, crafts and souvenirs be labeled as such, so consumers can make an informed choice about which businesses they support.
Mr. Mokak said it would be a much fairer system.
"We believe the onus should be on the producers of inauthentic products," he said.
Ms Baigent said she welcomes the idea, but would like to see additional deterrents for producers who undermine and copy Indigenous businesses.
"Non-Indigenous participation and the exploitative business models that we see in fake Aboriginal art or blackface businesses or other exploitation models, it's really important to be clear that they're blocking actively the future of our children," Ms. Baigent said.
"They are actively blocking the ability of Aboriginal people to thrive and prosper in business.
"I think there needs to be punitive offenses as well. We need to fine people [who] participate in this, you know. It's been going on for generations."
Protect profits and protect culture
The tagging system is just one of many measures the Productivity Commission recommends be implemented to ensure Indigenous producers get a fair share of the art and memorabilia market.
Mr. Mokak said it was not just the loss of profits that harmed communities, but the unauthorized reproduction of their stories and knowledge in unauthentic works of art.
The commission also wants to see Indigenous Cultural Intellectual Property (ICIP) laws strengthened, so that things like sacred symbols can be protected from wider use.
"We don't have laws in this country that provide specific protections for indigenous cultural and intellectual property," Mokak said.
"There should be new legislation to recognize the rights of Aboriginal Torres Strait Islanders to their traditional knowledge and cultural expressions.
"They should have a capacity, in legal terms, a course of action, where others have breached those protections, where a non-Indigenous person could have plagiarized or copied a traditional design belonging to the traditional owners."
Ms Baigent said the majority of consumers wanted to buy from Indigenous owned and operated businesses and ultimately felt cheated when they found out that was not where their money was going.
"Every day we have a client who says, 'Oh, my God. I thought it was an aboriginal business. I feel really angry. And I feel really misled." Every day we hear these comments," she said.
"We asked non-Indigenous businesses about two years ago to clearly state in their marketing that they were owned by non-Indigenous people.
"Some have complied, some haven't. I think those who have complied have done so because it's the law that you can't cheat the public, you can't cheat consumers."
Inauthentic art is just the tip of the iceberg
Ms Baigent said "business blackface" was prevalent in a number of industries where indigenous peoples have tried to enter the market, including food, tourism and clothing.
"They use First Nations knowledge. They decorate their packaging with our artwork, in our culture. They heavily market their social events and productions with Indigenous faces, to misrepresent who they are. and what they are," she said.
"If you really want to make an impact, respect Indigenous peoples, respect our culture and invest in our communities, and know that you're buying something authentic, then yes, we need something that shows consumers where they can do it..
"An Aboriginal business is going to have an impact. We are going to have an intergenerational impact. With the creation of this company, we are more likely to employ Aboriginal people, and this cross-generational knowledge and resources are invaluable.
The Productivity Commission's report will now be subject to consultation, before a final report is written and submitted to the federal government at the end of November.