An invite to Pennyhill, a conversation with Simon Middleton and how excited we should all be for red roses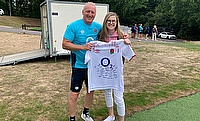 Simon Middleton presents TRU's Elizabeth Cartwright with a signed English shirt for charity
© TRU
Last Tuesday Simon Middleton invited me to Pennyhill Park to watch Red Roses training and to interview some of the girls ahead of the Rugby World Cup in October.
He also very kindly gave me an autographed English shirt to auction off for charity after I lost a very close friend to bowel cancer last year. On August 29, I ran 10K in memory of my friend.
Simon and I had many conversations on Zoom, so it was refreshing to chat face to face!
Since I started coaching at my local rugby club – St.Ives Midlands RFC – the England boss, despite all his energy and effort to prepare the Red Roses for New Zealand, has been incredibly supportive to my ambitions. I was touched when he invited me to watch the girls so I could see firsthand what's going on in training and try to learn from it.
Once England finished their intense session, Simon came over and greeted me with a hug and a smile. It was a special moment for me as it was the first time I interviewed someone in person for TRU and not through a screen!
Off the air, Simon asked me how the training was going before my race. To then present the shirt to me, I felt a certain emotion when I received it. He went on to ask me how my newly formed women's rugby team was doing ahead of their festival on Saturday before the focus turned to the Red Roses and their quest to become world champions.
??"It's spectacular to be part of it but it's not up to us to settle. I don't think you saw us thriving."

England have not been defeated in three years, and Abbie Ward's words show exactly why the Red Roses were tipped to win the World Cup.https://t.co/6r7eFPAqMb pic.twitter.com/Mq2gsv5WeC

— Talk Rugby Union (@TalkRugbyUnion) August 31, 2022
Despite how competitive the training session was – with warm-up matches against USA and Wales on the horizon – Simon, unsurprisingly, started our conversation in a light-hearted way.
England plan to stay on one of the islands of New Zealand during the World Cup where it is very difficult to access Wi-Fi: "I'm not embarrassed because I don't do social networks! Simon says TRU. "The girls won't know what to do with themselves!"
The atmosphere at Pennyhill is one of focus, but also excitement. Players and staff are working hard, but they're all smiling ahead of a massive few weeks for the world's top-ranked Test nation.
Coming back to the "on the ground" questions, Simon describes the session as a "fast day". "It involves a lot of speed work and then we tried to translate that into gameplay, a short, snappy, punchy game.
"The preparations are going very well. We have 39 players in camp, including a few players in rehab. Generally, the people who are here are in pretty good shape. We're a little tired because we've had eight weeks with only a one week break, but we're excited for our preparation matches ahead.
"We play USA first at Exeter (this Saturday at 3:00 p.m.) which will be great. We had some fantastic games at Exeter. It's always been a great place to play, it's one of the places that really appealed to us when the game really took off three or four years ago.
"They were instrumental in leading the crowd when we needed them. Then we go to Ashton Gate to face Wales, which will be fantastic. This will be our first time playing at Ashton Gate and Wales is right on the border so we are expecting a large crowd. I hope it will be a great start for us, the United States and for Wales and to give everyone a real taste of what is to come.
The growing buzz around the Red Roses fades well before they fly to New Zealand in a few weeks. Last month, England held an open training session at Twickenham in front of hundreds of fans as the feel-good factor around the squad continued.
Saracens' Hannah Botterman described the day as "really cool". "We don't always really see the fans unless it's game day. It was really nice to see everyone there and I hope they enjoyed it too. We all got a sharpie and it was great to be able to give something back to the fans and sign what we could.
England's warm-up match against the United States will be shown on terrestrial television (ITV4), which is becoming more and more frequent after the Red Roses' latest Six Nations triumph was broadcast on the BBC.
"Someone was in the crowd and said if I signed his leg he would get a tattoo! It was one of my worst signings!

Can Twitter help us & @Hanbotts find this person? ??

TRU had a great day with @EnglandRugby Tuesday and our preparation for the World Cup will continue next week! pic.twitter.com/5mfTJXENyK

— Talk Rugby Union (@TalkRugbyUnion) August 26, 2022
However, the rise in popularity of women's rugby also has some unusual upsides: "Someone was in the crowd and said if I signed his leg he'd get a tattoo!" Botterman says TRU. "I don't know if he had it tattooed, although he seemed pretty sure he would!" It was one of my worst signings I've ever done! It was on the side of his leg and I was on the floor trying to sign it. It was bad, not good at all".
While signing someone's body part was not on her agenda at Twickenham, World Player of the Year Zoe Aldcroft echoed Botterman's thoughts on the training session and the how the increased publicity offered him the opportunity to appear on A matter of sports.
"The practice session was really fun," she adds. "It was so good to have so many supporters there, there were also so many young fans in the crowd. We got to see them after and interact with a lot of them which was really nice. It was extremely hot, however, which made it difficult to train!
"The sport question was really fun but I was absolutely rubbish! My main question was about canoeing which I had no idea but it was a big laugh!"
The upward trajectory the Red Roses are on – both on and off the pitch – is becoming increasingly difficult to ignore. After experiencing a day I will never forget at Pennyhill Park, let's hope England can create more memories that we can all collectively cherish over the next two months.